There generally is two rules of thumb when it comes to Disney World, and really all of Disney. People on one side of the spectrum love it, and can never get enough of it. That is me.
Then there is the other people. Whether they have been in the past, simply hate the idea of it, or think it is just for kids, they detest Disney World. 
Well this post is for both sets of people. Those who both love it and those who simply do not. For those that love it, maybe you will love it even more after this post. For those that don't, maybe you will just give it a try!
Every year, my family and I try to make time to visit Disney World. Why? Because we flat out love it! But we have also learned some of the dos and don't of traveling to Disney World.
Go in the offseason
Yes for some, this is impossible if we have kids. But it is hot, humid, packed, and just not as enjoyable if we plan to spend any time in the parks during the summer months or during popular school vacations.
By simply going in the off months, your visit will be much better, and cheaper too! Disney often runs promotions during these months to attract visitors.
My favorite time of year to go is anywhere from middle of September – middle of October. Kids are back in school, and the parks are the emptiest they'll be all year. Plus you can attend the Epcot Food & Wine Festival, which is the best time of year at Disney World for amazingly tasty food.
Stay at a Disney resort
It pains me every time someone tells me they have been to Disney, and they stayed at a hotel outside of Disney. This is a flawed strategy for so many reasons.
By staying at a Disney resort, you are granted privileges that other aren't. Extra hours in the parks, more time to book and plan rides, free transportation to and from the parks, free transportation back and forth from the airport, etc…. Just having the ease of mind and being relaxed, and not having to rush around. If you want to spend just a couple hours at the park in the morning, and go back to relax at resort, you can.
I've stayed outside the parks and commuted to parks from outside hotels, it just is not the same experience. You will not know what I mean until you stay in the park. Trust me!
Plan your dining in advance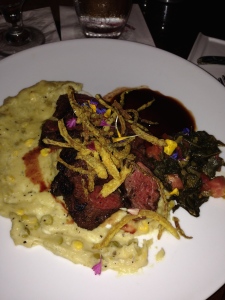 This might not sound like a lot of fun, but it is! This is a 'must do' thing now especially if you want to get some of the best restaurants and dining experiences that Disney has to offer. You have 180 days before your trip to start planning your restaurants. It makes the whole experience more immersive and exciting.
Where to go? I can write a whole post about this! We've been to almost every restaurant in Disney, and we certainly have our favorites. There are some awesome guides, and blogs about this. I definitely recommend the Disney Food Blog.
Plan your rides in advance
Want to avoid long wait times? Well now with the new Fast Pass + that Disney World has started, you can. You can book up to 3 rides per day at the same park. This will save your wait times considerably, and you will no longer have to wait an unbearable 1 or 2 hours for some rides in the heat.
Find your families entry points
What do I mean entry points? Everyone has a different thing that excites them or interests them. The good news is, Disney can appeal to anyone! Maybe you LOVE fine dining, but other members of your family love things such as: horseback riding, fishing, going to a baseball game, racing, boating, well you can find them all at Disney! Plan your itinerary around what everyone in the family likes to do.
Take time to just relax and enjoy unique Disney things
This can be anything. Enjoy the things that only Disney World does. Whether it is the amazing firework shows, the unique dining experiences, or some of the cool behind the scenes tours. But the most important thing to do is to just relax!
These are some of my favorite suggestions on enjoying trips to Disney World even more, if you already like it. If you don't, give it a another chance. Trust me! You won't regret it. This time you will like it!
What would you recommend to someone who wanted to give Disney World another chance? Post in the comments below!