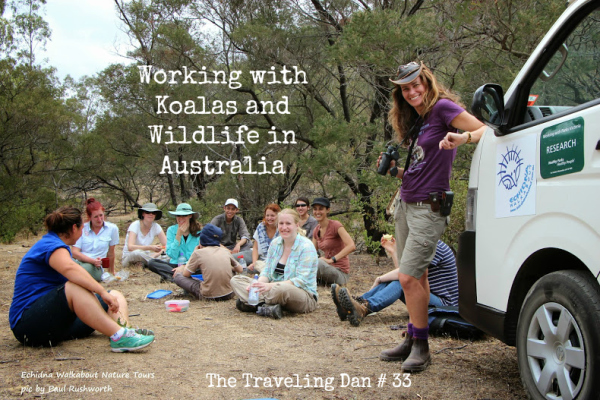 The Traveling Dan # 33 – Working with Koalas and Wildlife in Australia – December 1, 2014
Show Description: This is an extremely fascinating and completely different interview with Janine Duffy, who absolutely LOVES wildlife. You will be energized, and dying to get to Australia after listening to this show.
Janine's main love, is her love for koalas. She helps run a wildlife tour company operating our of Melbourne, Australia. They take visitors to reserves and parks to explore and see the many wildlife offerings of Australia.
Her love for animals is crystal clear hearing her passion for what she does. She lives it and breathes it. She takes us on a virtual tour of a day in the life of a tour group leader who leads travelers into the Australian outback.
On this episode you will hear:
The difference between boom and bust time for seeing animals, and why it is unpredictable
The sad realities for koalas, and what WE can do to help
What her company is doing to help differentiate koalas and help research them
What visitors can expect when visiting Australia
Why people should go on a wildlife tour
Links mentioned in this episode:
We Want to Be the Highest Rated Travel Podcast Around. To do that simply:
Leave a review by clicking the 'Reviews and Ratings' tab at the top
Leave us a 5 star review 🙂
Other Ways to Connect:
Twitter: https://twitter.com/traveling_dan
Facebook: http://facebook.com/thetravelingdan