Can I possibly be serious? Am I exaggerating? Not at all. I just recently had the best breakfast you will ever eat! And I am being dead serious. Unless my taste buds are skewed. But I certainly don't think so 🙂
Where is this mystery place? 
The name of it is Wildberry Pancakes and Cafe. It is located right in the heart of Downtown Chicago, right across the street from Millennium Park and the famous Bean.
After hearing from a brother who was recently in Chicago about how amazing Wildberries is, and then seeing it listed as the best breakfast in Chicago according to Yelp!, I decided it was worth giving a try.
And I certainly wasn't disappointed!
Why is it the best breakfast? 
Too many reasons to number! Just to name a few:
Ridiculously Large Menu – For some this may be a turn off, but after reading the menu here it made me want to go back over and over and over again! I needed to try all the different options. From all the pancake varieties and toppings to the wonderful skillets to the omelettes to the speciality items. There was a lot of amazing options to choose from.
Reasonable Prices – Generally speaking, prices in a restaurant in a large city with prime real estate are significantly higher then a typical restaurant in a small town. Not at Wildberries! The prices here are more then reasonable, and what most people would expect to pay at the regular diner or breakfast place nearest them. Except with WAY better food.
Quantity of Food – The generous portions are one thing at Wildberries, but how about having a side pancake with your eggs at no additional cost? I don't believe anyone in my 6 person group ate their entire meal and we were starving! We were stuffed! Prepare to come hungry and leave content not to eat another meal for several, several hours. With a taste like that in your stomach, that is not such a bad thing 🙂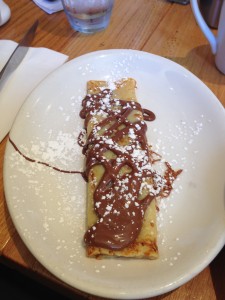 Quality of Food – Whether it was the best tasting pancakes of our life or the amazingly appetizing and satisfying skillets, Wildberries delivered again! As I have mentioned over and over again, every person in my group thought their breakfast was unbelievable!
Pancakes – This deserves it's own category because any pancake that is considered the best pancake deserves a category. Don't just order any pancake, order the Berry Bliss Pancakes. Oh……my…….goodness….. Talk about perfection. The combination of the blackberry marscapone and the vanilla anglaise and the berry coulis makes for one amazing topping! While the other pancakes are really good, the berry bliss are in a category of their own.
When a restaurant is generally hyped a ton on the internet or on the food network it can certainly be a tourist trap. Average to good food but not GREAT food. This place is certainly not that. It deserves all the hype it gets, and I hope it continues to maintain its reputation.
Seriously the Best Breakfast Ever? 
The only breakfast I've had that was close to as good as this is Norma's in Le Parker Meridien Hotel in NYC. While Norma's food quality is unbelievable, their small portions and gigantic prices make Wildberry Pancakes and Cafe a more attractive option.
Have you ever been to Wildberry Pancakes and Cafe? Or have you had a breakfast that makes your mouth water when thinking about it? Post in the comments below!