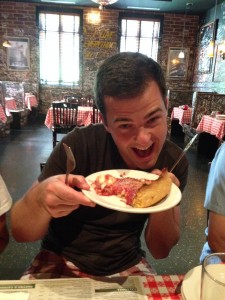 In one of my original posts, I mentioned my love for all things pizza. Even deep dish pizza 🙂
Wherever I go where there is supposed "good" pizza, I almost always try it. And since I was just in Chicago for my second time, I decided to try a new deep dish.
In my first visit to Chicago a couple years back, I tried Lou Malnati's and I was not disappointed. It was quite good, but this time I wanted to give the Original Gino's East a try.
We showed up to Gino's around 2:00 in the afternoon. We figured this would be a nice, calmer, more relaxed time to get a table. Service would be quicker, and we could be in and out allowing us more time to see the city.
We were wrong….I will touch on that later. 
Where is the Original Gino's East? 
It is located right in downtown Chicago on Superior Street, just off the Magnificent Mile. Not far at all from the Naval Pier. It is really easy to find Gino's and get to the original location. Perfect location for all things from shopping to sightseeing to food paradise.
What makes the Original Gino's East different from the res

t?

Well one thing that immediately stands out upon opening the doors of Gino's is the energetic, artsy feel of the restaurant. From the waiters to the hosts to the graffiti written all over the building. I guess the graffiti is their signature calling, everyone writes their names EVERYWHERE including your chairs. (Except the bathrooms)

They also have a signature celebrity wall with pictures and autographs from every celebrity under the sun.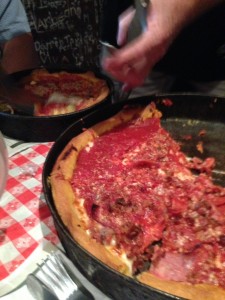 How does the pizza stack up?
In short, the pizza was excellent! It was cooked to perfection. Not overly done, just right 🙂
For their crust, they use a cornmeal type of crust that really stands out from the rest of the deep dish places. Every bite has a savory, buttery flavor. It makes the crust outstanding and every bite worth savoring!
They use a nice blend of sauce and mozzarella cheese as well. The sauce has a real sweet, almost tangy like flavor to it. It really stands out. Some might not like it so much, but I thought it worked excellent on the pizza.
Gino's is very generous with their toppings, and if you order any type or vegetable they will give you A LOT.
All 6 people in our group loved the pizza, and surprisingly we finished it all!
The negatives of our experience
While the server was helpful and energetic, he was a little inattentive. Upon coming to our table, he immediately told us that if we wanted deep dish it would be at least an hour. We were a little shocked considering the restaurant was empty, but whatever, we could wait. That certainly isn't the waiters fault.
All in the group were starving so we asked what he recommended to tie us over until the pizza was ready, and he recommended the gigantic, tasty wings they have. So we ordered an order of wings. Needless to say, they were tasty but SMALL. Maybe in the midwest they do things smaller then on the East Coast. But those were not gigantic wings by any calculation.
As I mentioned above, the pizza finally did come out and it certainly delivered! But after delivering our food to us, our waiter did not come back out until about 20 minutes after all of us were sitting their waiting to leave. Not trying to be nitpicky, but it is easy to become impatient when you only have 1 day in such an awesome city like Chicago.
Overall experience
Despite a couple of disappointing factors, the overall experience was awesome! The food was great, and the restaurant had a cool vibe to it. I would certainly go back, but only after I try some of the other deep dish places 🙂
What is your favorite deep dish pizza place? Post in the comments below!