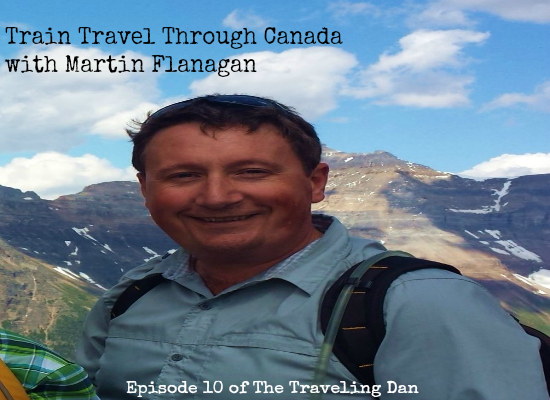 The Traveling Dan # 10 – Train Travel Through Canada with Martin Flanagan – August 22, 2014
Show Description: Martin from Canada Rail Vacations knows a thing or two about rail travel. Learn about his experience traveling throughout Canada by rail. He knows exactly the best routes, places to visit, and spots off the beaten path to see in Canada.
Martin likes to provide personal touch for his clients with his company Canada Rail Vacations. He gives outstanding first-class service that generates repeat customers time after time.
You will love his unique insights and ideas for any looking to travel by rail, both in Canada and internationally.
On this episode you will hear:
The train route in Canada for a guaranteed spotting of Polar Bears!
Why train travel in Canada might be costly, but worth it!
The benefits of train travel over other forms of transportation
The best train routes for newbies looking to venture into train travel
Links mentioned in this podcast:
We Want to Be the Highest Rated Travel Podcast Around. To do that simply:
Leave a review by clicking the 'Reviews and Ratings' tab at the top
Leave us a 5 star review 🙂
Other Ways to Connect:
Twitter: https://twitter.com/traveling_dan
Facebook: http://facebook.com/thetravelingdan