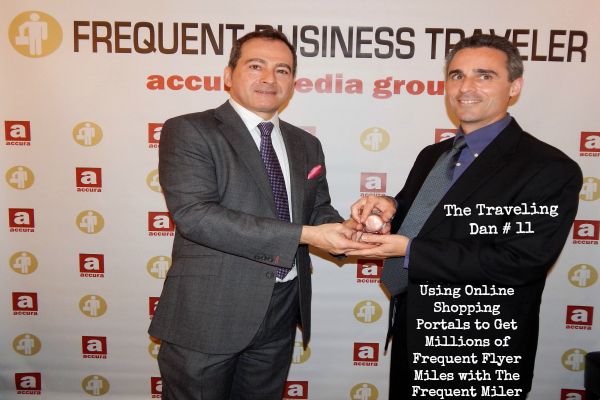 The Traveling Dan # 11 – Using Online Shopping Portals to Get Millions of Frequent Flyer Miles with The Frequent Miler – August 25, 2014
Show Description: The Frequent Miler shows us how to use portals, gift cards, and other tactics to accumulate millions of miles each year. If your wondering what else you can do to build your rewards accounts faster, then this is the call for you!
He breaks it down in an easy to understand fashion, all we have to do is follow his tips for step-by-step instructions. He shows you some of the examples and ways he has successfully been able to get 10, 20 or even 30 points for dollar!
On this episode you will hear:
How he personally gets millions of frequent flyer miles each year
Why his favorite credit card is the Chase Ink Business Card
Why his love of taking his family in 1st class is attainable without breaking the bank
The secrets to finding the best cash back portal or points portals
How he organizes all his award accounts
The new and exciting deals for those looking to cash in
Links mentioned in this podcast:
We Want to Be the Highest Rated Travel Podcast Around. To do that simply:
Leave a review by clicking the 'Reviews and Ratings' tab at the top
Leave us a 5 star review 🙂
Other Ways to Connect:
Twitter: https://twitter.com/traveling_dan
Facebook: http://facebook.com/thetravelingdan