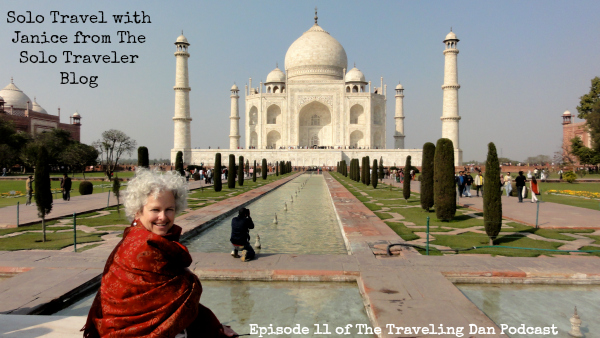 The Traveling Dan # 12 – Solo Travel with Janice from the Solo Traveler Blog – August 29, 2014
Show Description: Janice from the Solo Traveler Blog has done it all. Family travel, couples travel, and of course solo travel!
After the tragic passing of her husband while she was in her 40s, she decided instead of discontinuing her love for travel why not take another angle when it comes to travel. Thats when she started the Solo Traveler Blog.
She provides great insights for solo travelers and non solo travelers alike. You will love her story!
On this episode you will hear:
How Janice's love of travel was created by her childhood and continued throughout the many stages of her life
How she chooses destinations to visit that are safe for solo travelers
Excellent tips on avoiding lonelyness for travelers
Deals that are ONLY available for solo travelers
How Canadian travelers can save hundreds of dollars with one particular trick
Where you can find the ultimate book that teaches you how you can travel the world without working a day job ever again!
Links mentioned in this podcast:
Career Break Travelers Handbook
We Want to Be the Highest Rated Travel Podcast Around. To do that simply:
Leave a review by clicking the 'Reviews and Ratings' tab at the top
Leave us a 5 star review 🙂
Other Ways to Connect:
Twitter: https://twitter.com/traveling_dan
Facebook: http://facebook.com/thetravelingdan