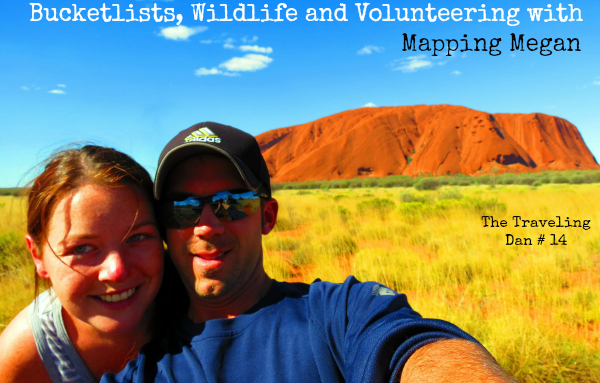 The Traveling Dan # 14 – Bucketlists, Wildlife and Volunteering with Mapping Megan – September 3, 2014
Show Description: Megan from Mapping Megan has had all kinds of crazy adventures! And she is just starting! From hiking up Mount Kilimanjaro to Camping at Serengeti. You will not want to miss her travel stories.
Megan has an awesome website that is extremely interactive and allows her to pin on an interactive map all her travels. She talks about creating a bucketlist, and how she is able to cross things off her bucketlist.
Megan and her husband have a passion for volunteer work, as well as adventure travel.
On this episode you will hear:
How Mapping Megan has changed drastically over the years. In fact, at one point in time her friends and family never knew where she was!
How she got into volunteer work, and some great references.
How the movie The Holiday is actually real! And how people really do house swap around the world.
Her favorite tips for being able to travel more on less, including ones you wouldn't normally think about
Links mentioned in this podcast:
International Student Volunteers
We Want to Be the Highest Rated Travel Podcast Around. To do that simply:
Leave a review by clicking the 'Reviews and Ratings' tab at the top
Leave us a 5 star review 🙂
Other Ways to Connect:
Twitter: https://twitter.com/traveling_dan
Facebook: http://facebook.com/thetravelingdan