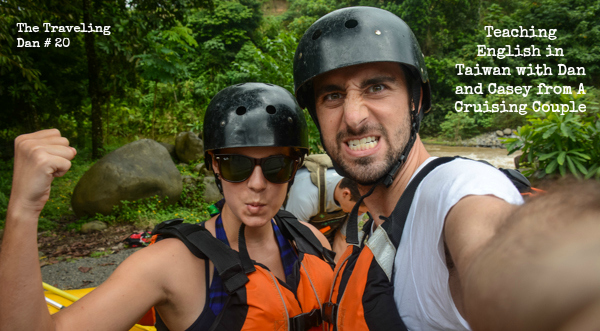 The Traveling Dan # 20 – Teaching English in Taiwan – September 24, 2014
Show Description: You will love hearing this chat with Dan and Casey from A Cruising Couple about their travels, and how they ended up teaching english abroad.
They also share how they ended up traveling around the United States at first, and then moving from place to place to place over the last year.
They share their insights into traveling all over, from Asia to Europe to Costa Rica to South America. They even got to attend the World Cup in Brazil this summer!
On this episode you will hear:
Their gift registry for their wedding was AMAZING.. Find out what it was. Hint: travelers will LOVE this idea
How they ended up teaching english in Taiwan, of all places
Why they decided to travel 1,000 miles down Vietnam ON BIKE!
How they were able to attend the World Cup in Brazil
How regular people with regular jobs can travel more
Links mentioned in this podcast:
We Want to Be the Highest Rated Travel Podcast Around. To do that simply:
Leave a review by clicking the 'Reviews and Ratings' tab at the top
Leave us a 5 star review 🙂
Other Ways to Connect:
Twitter: https://twitter.com/traveling_dan
Facebook: http://facebook.com/thetravelingdan