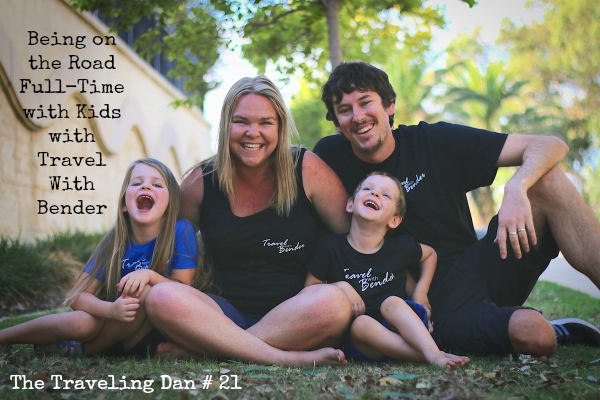 The Traveling Dan # 21 – Being on the Road Full-Time with Kids – September 29, 2014
Show Description: Traveling as a solo person can be hard. Traveling as couple can be even harder. But imagine traveling around the world with a family, including 2 kids! That is what Erin and Josh from Travel With Bender do.
Imagine not having the conveniences of home or family being nearby while raising kids. Well the Bender Family travels full-time while raising their kids.
They talk about the challenges of raising kids being in a foreign land at almost all times. Anyone who has a family or likes to travel will love hearing their insights on how they overcome the difficulties.
On this episode you will hear:
How their kids get the best possible education, through actual learning and living
A crazy story about a hot air balloon in Turkey
How they actually able to spend better quality time with family, despite being on the road
Why being on the road full-time is actually cheaper then going on a few holidays a year
How they balance doing things their kids want to do, and things they want to do
Ways to keep your kids occupied while traveling, even some while you don't have to be there!
Links mentioned in this podcast:
We Want to Be the Highest Rated Travel Podcast Around. To do that simply:
Leave a review by clicking the 'Reviews and Ratings' tab at the top
Leave us a 5 star review 🙂
Other Ways to Connect:
Twitter: https://twitter.com/traveling_dan
Facebook: http://facebook.com/thetravelingdan