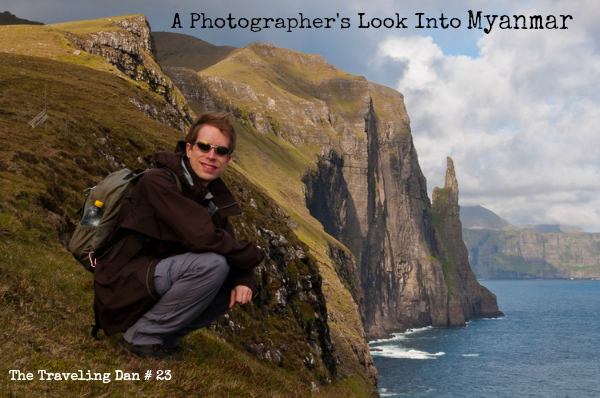 The Traveling Dan #23 – A Photographer's Look Into Myanmar – October 6, 2014
Show Description: In this interview, take a journey through the far corners of the earth with us with Dustin Main. Dustin started his journey from Canada, and for the last several years, he has been traveling non stop.
Somewhere along the way, he developed this strong love for all things Myanmar. From the local people to the beauty of the country to the wonderful photography he can shoot there.
Dustin shares his insights for all things travel related, especially when it comes to photography and adventure travel.
On this episode you will hear:
How 1 trip changed his lifelong goal, and he has been traveling non stop since
2 photography tips that can drastically change your pictures for the better
Why he prefers telling stories through photos as opposed to written words
The challenges of traveling to an undeveloped country such as Myanmar
The cultural changes Myanmar has taken over the last few years
Why a visit to Myanmar should be something you do NOW as opposed to later
Why East Timor might be the new 'IN' place to go for travelers looking for an authentic experience
Links mentioned in this podcast:
We Want to Be the Highest Rated Travel Podcast Around. To do that simply:
Leave a review by clicking the 'Reviews and Ratings' tab at the top
Leave us a 5 star review 🙂
Other Ways to Connect:
Twitter: https://twitter.com/traveling_dan
Facebook: http://facebook.com/thetravelingdan