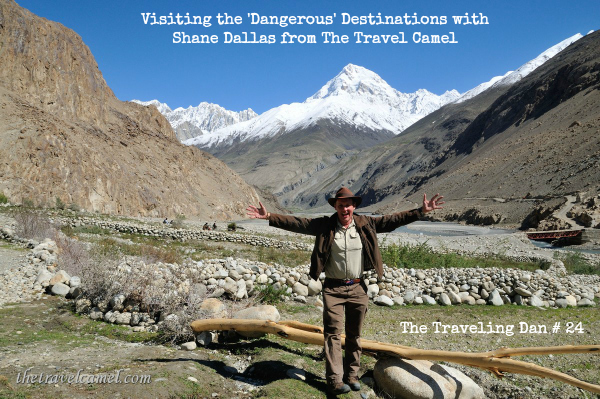 The Traveling Dan # 24 – Visiting the 'Dangerous' Destinations – October 10, 2014
Show Description: Shane Dallas from The Travel Camel is unlike anyone we have ever had on the show. He enjoys traveling to places that YOU would NEVER want to go… In fact, by the end of the show you might actually think about going to some of these places.
Shane is an Aussie through and through, and he is proud of it. He certainly does not disguise himself when traveling throughout Africa or the Middle East. But why does he go to these 'dangerous' destinations? Does he actually like feeling 'unsafe?'
Find out on this interview!
On this episode you will hear:
How Shane's previous career of being a government investigator has helped him in his travels
Why traveling to Afghanistan or North Korea is not as crazy as you might think
Great first destinations for travelers looking outside the 'NORM'
His favorite ways of saving money on the cheap, and surprisingly he doesn't stay at hostels!
Why Dubai is the perfect home base for Shane
Breaking the stereotypes of the Middle East
Links mentioned in this podcast:
We Want to Be the Highest Rated Travel Podcast Around. To do that simply:
Leave a review by clicking the 'Reviews and Ratings' tab at the top
Leave us a 5 star review 🙂
Other Ways to Connect:
Twitter: https://twitter.com/traveling_dan
Facebook: http://facebook.com/thetravelingdan