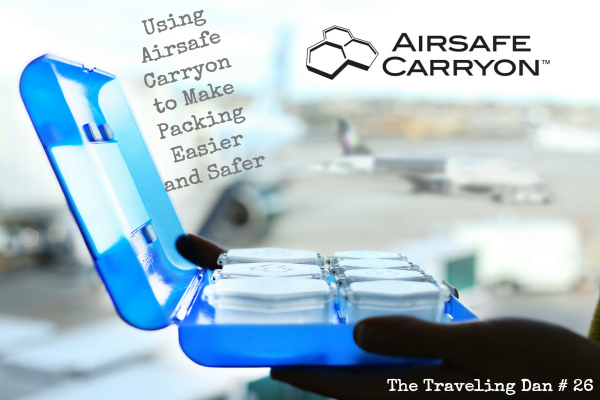 The Traveling Dan # 26 – Using Airsafe Carryon to Make Packing Easier and Safer – October 15, 2014
Show Description: Listen in on this interview with the energetic Francine from Airsafe Carryon about her new and exciting products that will change travel for light packing travelers.
Francine is a world traveler, and with tragic losses to family members due to possible plastic contamination, Francine decided to change the way travelers travel. For years Francine has wanted travelers to feel at ease with traveling and not have to worry about their liquids while traveling, and her new company Airsafe Carry On is trying to make it possible for all.
On this episode you will hear: 
The dangers of using plastic carry on containers for liquids that you probably never realized
The durability concerns of making sure a liquid container can handle a wide variety of elements and altitudes
Why she decided to create something completely new and different for women travelers
A money making opportunity for those looking to get involved in making a difference
Why Francine LOVED Cuba even though she is an American traveler, and why she recommends travelers to visit if they can
Links mentioned in this podcast:
Air Carry On – Product Launch October 21st, 2014!!! 
We Want to Be the Highest Rated Travel Podcast Around. To do that simply:
Leave a review by clicking the 'Reviews and Ratings' tab at the top
Leave us a 5 star review 🙂
Other Ways to Connect:
Twitter: https://twitter.com/traveling_dan
Facebook: http://facebook.com/thetravelingdan