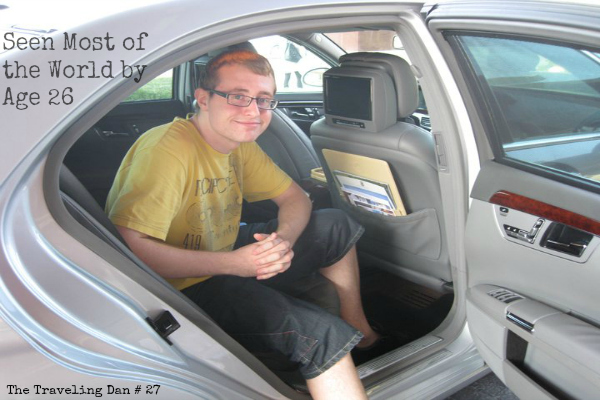 The Traveling Dan # 27 – Seen Most of the World by Age 26
Show Description: At the ripe old age of 26, Henrik has seen over 75% of the world! For the last 4 years he has been traveling, traveling, and traveling some more! He isn't going to stop until he sees the entire world. But that might take a while!
Certain places he visits he stays for days, some weeks, and some months. But for the most part he travels fast, and luxuriously. (As long as he has a sponsor for his trip 🙂
Henrik will open up about why he is on this journey, some of his sleepless nights, scary encounters, and everything in between. You will not want to miss this episode and his inspirational journey along the way!
On this episode you will hear:
How he is able to get sponsors for his trips around the world, so he pays very little out of pocket
Ways to find out the legalities and visa information for EVERY country
Why he has hitchiked over 1,000 times and has NEVER had a problem
How he became the record holder for most airlines flown by one person!
Why and how he has gotten robbed 4 separate times, but refuses to change or stop traveling
Of course, his favorite destinations! And from someone who has been to around 200 countries, that is saying something!
Why he has stayed at over 30 resorts in the Maldives
Links mentioned in this podcast:
We Want to Be the Highest Rated Travel Podcast Around. To do that simply:
Leave a review by clicking the 'Reviews and Ratings' tab at the top
Leave us a 5 star review 🙂
Other Ways to Connect:
Twitter: https://twitter.com/traveling_dan
Facebook: http://facebook.com/thetravelingdan