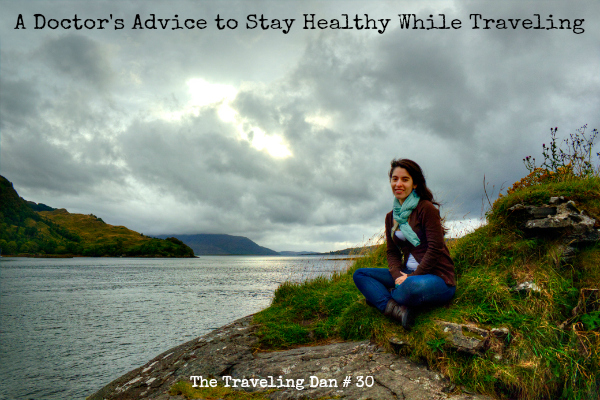 The Traveling Dan # 30 – A Doctor's Advice to Stay Healthy While Traveling – November 12, 2014
Show Description: We interview Mariana, a doctor from Barcelona about staying healthy on the road.
After spending most of her life in Costa Rica, Mariana decided to move to Barcelona to pursue her love of travel while using her medical background. She helps us to engage all 5 of our senses while traveling so that we can be fully immersed in our experience.
Recently, Mariana started a site designed to help travelers prevent serious health issues on the road. She covers a wide variety of topis on this show, all designed to help YOU while you continue to travel the world.
On this episode you will hear:
Her favorite things to pack in case of an emergency
Ways to overcome jetlag for everyone
Why your always thirsty after a long plane ride
How to enjoy eating and drinking in a new place, without worrying about the ill effects of it
Preventing and treating insect bites
Links mentioned in this podcast:
We Want to Be the Highest Rated Travel Podcast Around. To do that simply:
Leave a review by clicking the 'Reviews and Ratings' tab at the top
Leave us a 5 star review 🙂
Other Ways to Connect:
Twitter: https://twitter.com/traveling_dan
Facebook: http://facebook.com/thetravelingdan