There are a TON of reasons why I love the Southwest Credit Card! To sum all my feelings up in one post is very difficult, but I will give you a run down of some of my favorite reasons why.
Before I get into the reasons why I love the card, the biggest thing to keep in mind before getting the credit card is making sure the card has a 50,000 sign up bonus! The promotion tends to go back and forth between the 25,000 and the 50,000 bonus. Obviously signing up when the bigger bonus promotion is going on is the smart thing to do.
50,000 bonus points is over $800 worth of airfare. 25,000 is only half of that.
Some people when looking at the credit card decide not to get it because of the annual fee. The annual fee tends to be anywhere from $69 – $99. Is the annual fee reason enough not to get the card? Of course not! Would you rather have over $800 or $100? It is as easy as asking yourself that.
The other thing people worry about is the spend limit to receive the bonus, and making sure they can accomplish that. Well obviously everyone's thresholds for spending are different. The Southwest Credit Card spend limit is generally $2,000 within 3 months. For most people $2,000 within 3 months is not too difficult. People do not realize how flexible credit cards are these days. You can make car payments, mortgage payments, insurance payments, almost anything with a credit card these days! This makes the spending requirement much more doable.
There are two other things to make sure of before applying for ANY travel credit card. Listen carefully!
Make sure you have at least a 700 credit score. If you do not, there is a really good chance you will be declined. The best travel credit card banks look for excellent creditors.
Make sure you pay off your credit card balance in full each month. If you cannot, or do not plan on doing this all the travel perks in the world aren't going to make a difference. Travel credit cards almost always have interest rates over 15%. It doesn't equal out to not pay the balance off in full.
So if you can do the two things above then you are now ready for my reasons on why the Southwest Credit Card is so amazing! 
1. Southwest is one of the most wide spread airline companies in the United States. They have a HUGE network in the United States, and they fly virtually everywhere. Especially in the big cities. Their network is continuing to expand, and they are slowly beginning to go into other areas as well. Such as the Caribbean and other markets rumored to be opening up.
2. Southwest offers no foreign transaction fees on international travel. This is a huge benefit if you travel overseas.
3. Using the Southwest rewards points is so simple! It is not difficult or confusing at all. It is just as easy as booking a flight with money.
4. The award availability is amazing! A lot of other airlines have limited award seats. Meaning that if you do not book the flights 6 months out or so, then you cannot get a flight on certain dates. Southwest allows members to use their points on any flight where there is availability!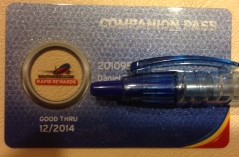 5. The greatest reason I love the Southwest Credit Card is because of the Companion Pass! In my opinion, the Southwest Companion Pass is the greatest frequent flyer perk out there. It allows you to have a companion for free for the rest of the calendar year, and the whole following year! Sweet huh? If you accrue 110,000 points in a calendar year you can get the companion pass. The good news it is not that difficult when the personal and the business Southwest Credit Cards are 50,000 points per piece. Catch my drift? 
There are a lot of other reasons why I love the Southwest Credit Card. But that is all we have time for today folks! Thanks again for reading! I will continue to add more and more content to this blog.