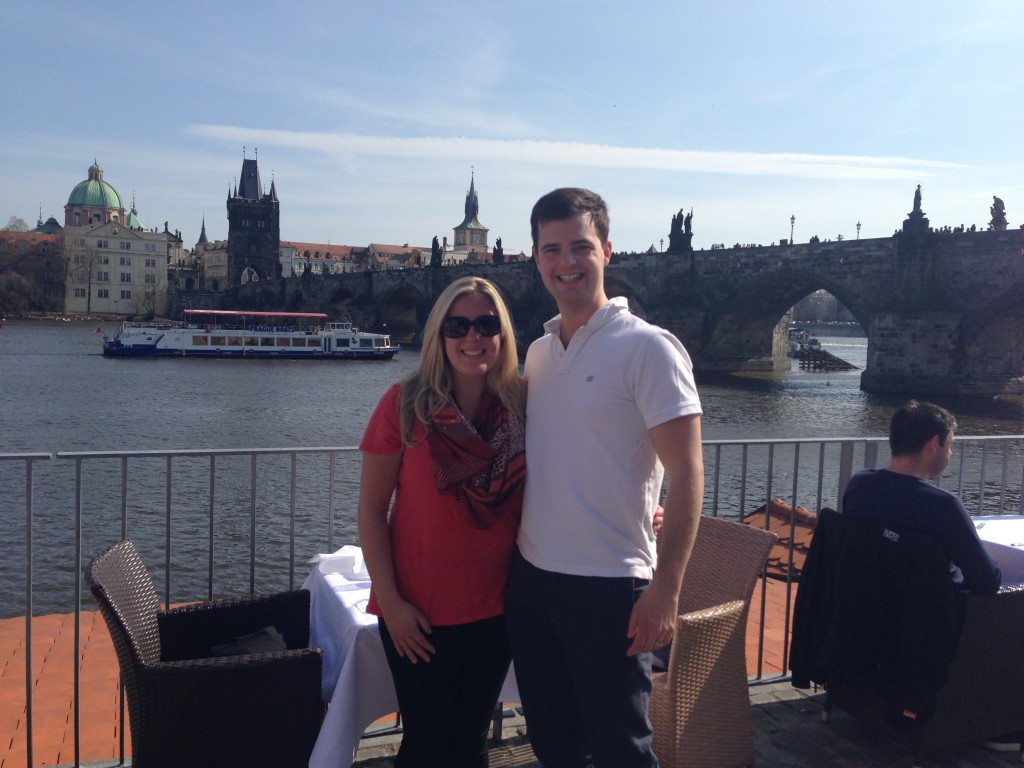 In doing research after research for ALL the places and restaurants I absolutely NEEDED to go to, Kampa Park is the one that kept showing up OVER and OVER again. I needed to do a Kampa Park Review! 
What is Kampa Park and Where is It?
In doing my "Grand Tour" so to speak throughout Eastern Europe, the first stop I made was Prague. Prague has some of the most beautiful scenery, and gorgeous views. In fact, in some ways I like it better then Paris as I wrote about here. 
One of the iconic sights in Prague is the Charles Bridge. Just below the Charles Bridge is the famous restaurant called Kampa Park. Kampa Park is a favorite of my celebrities, and business men around the world. Upon reading review after review of this "amazing eatery" I needed to give it a try!
Was it Worth It?
Because I am a rather frugal traveler, I like to cut costs wherever I can. Kampa Park is no cheap meal, and that is saying something because Eastern Europe tends to be considerably cheaper on most occasions. So rather then enjoying Kampa Park for dinner, my wife and I went for lunch. Menu is very similar, and prices seem to be half the price! So why not save a few bucks.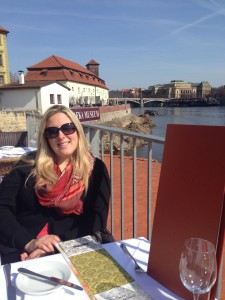 Upon getting to the restaurant we were instantly WOWED at the views. We got an extremely picturesque view of the bridge and the Vltava River. That ALONE was worth the price of the meal.
My wife and I consider ourselves somewhat food snobs. When we go out for dinner, we like to get good food and really splurge. But being super money conscious these days, we rather cook at home then have a mediocre meal somewhere out. But since we were on vacation, and we wanted to splurge at least for one meal, Kampa Park was our splurge.
And boy was it a nice splurge! 
To start, my wife got a mojito that was excellent and considerably better then the one she had the night before. I had a pilsner urquell on tap. When in Rome they say……
After getting our drinks, one of the things that intrigued me was the beef tartare on the menu as an appetizer. After a few Europe trips, I fell in love with beef tartare. The idea of raw beef freaked me out in the beginning, but boy am I happy I sucked it out and tried it. It is amazing!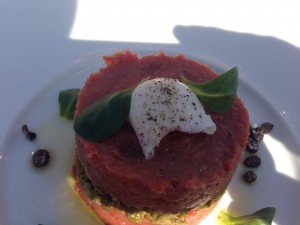 And at Kampa Park, it was even more amazing then usual. It was the best beef tartare I've ever had! So incredibly flavorful, and tasty! Just put a dab of it on the nice pieces of toasted bread they served, and it literally melted in my mouth. Even the Mrs couldn't help herself. I was actually sad and disappointed when it was gone 🙁
For our main courses, we went to two opposite extremes. My wife got a saffron risotto with shrimp. While she liked hers, the saffron flavoring was a little stronger then she expected. And since she makes the best risotto in the world, it was kind of hard to be impressed. But it was still tasty.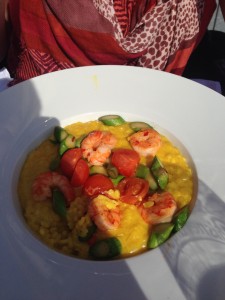 Being the typical American my menu choice probably is not too surprising, but the waitress actually recommended it! It is called the King Kampa Club. To explain, it was two toasted pieces of amazing country bread, stuffed with a piece of grilled beef, bacon, vegetables and topped with a sunny side egg!  And it was served with a side of homemade fries. It was amazing to say the least!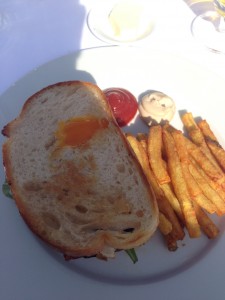 After our meals, although the dessert menu looked quite good, the frugal side of us decided to get some $3 crepes right next to our hotel. Those are my wife's favorite.
Final Kampa Park Review
We were thoroughly impressed with our meal at Kampa Park, and for the total overall experience, it was definitely worth it on every front!
On a scale of 1-10, 10 being the highest I would give Kampa Park:
Atmosphere and View: 10
Food: 9
Service : 9 (Would give it a 10, but waitress seemed a little annoyed we didn't give her tip in cash)

If we go to Prague again, Kampa Park will be high on our list. I fully recommend it!
Have you ever been to Kampa Park? What are your thoughts? Put them in the comments section below!