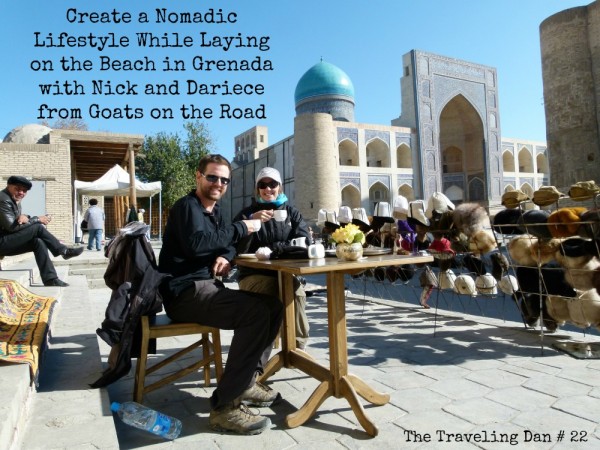 The Traveling Dan # 22 – Create a Nomadic Lifestyle While Laying on the Beach in Grenada – October 3, 2014
Show Description: On this episode we learn the stories of Nice and Dariece from Goats on the Road about living abroad.
They are experts when it comes to making money in other lands. Just to give you an example, they have taught english abroad in China while creating an income stream from their blog. But they also have tried many other things to create an income stream abroad, and you will learn them on this episode.
Come join us on the tropical island of Grenada as we find out what makes Grenada a great destination, and why they ended up there!
On this episode you will hear:
Why Grenada should not be off the beaten path, and how we can take advantage of it being off
Why they decided to leave their traditional lives behind and live a nomadic lifestyle
How they have created a nomadic lifestyle, and all the different money making efforts they have tried
Why a visit to the 'Stan' countries is not dangerous, and in fact, Nick and Dariece LOVE it
Why House Sitting continues to be one of the best 'hidden gems' out there for long-term travelers
Links mentioned in this episode:
We Want to Be the Highest Rated Travel Podcast Around. To do that simply:
Leave a review by clicking the 'Reviews and Ratings' tab at the top
Leave us a 5 star review 🙂
Other Ways to Connect:
Twitter: https://twitter.com/traveling_dan
Facebook: http://facebook.com/thetravelingdan