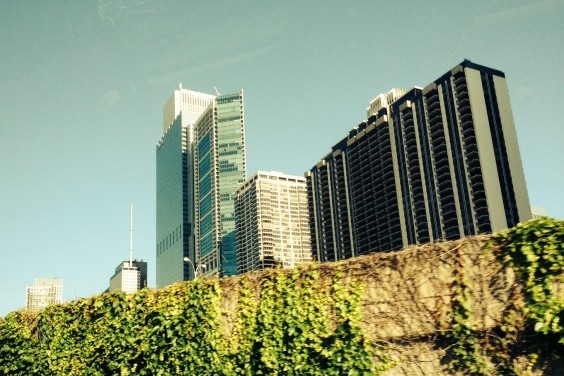 If you haven't already seen from my other posts this week, we are featuring the great city of Chicago all week. This post will be dedicated to the top things in Chicago to do, see or eat from my viewpoint 🙂
The previous posts on Chicago restaurant reviews are here:
Chicago is the destination of the week. In time, I will feature other places I've personally traveled to and have first hand knowledge about as well. I want to focus on not only just the touristy MUST DOs of each place, but also the local flare as well. Places that the locals would go.
Without further ado…….
Top Things in Chicago to Do and See
Visit the Two Main Parks, Grant Park and Millennium Park – Two beautiful lakefront parks that make up a big portion of Downtown Chicago. In Millennium Park, you will find the famous "Bean." In both parks, you will find beautiful landscaping and architecture. They are the home for many festivals, concerts, and activities for the city.
Go to the Skywalk at the Willis Tower – Yes, this is a major touristy thing to do but in my opinion worth it. You can take pictures over the clear glass on the side of the building, which makes it appear as if you are over nothing at all. You get a beautiful view over the entire city, and get see many of the most famous Chicago buildings in the distance. A nice alternative to this, is going to the top of the John Hancock building. While not quite as tall, the experience and the views are even better especially if you are an adult. A nice lounge at over 900 feet up in the air can be enjoyed while sipping a cocktail 🙂
Navy Pier – This mile or so long pier can be a very pleasurable experience, especially at night where it really perks up. While it is a bit of a walk, it is quite an awesome time. Lined with restaurants, nightlife entertainment, boat rides, amusement park rides, bars, and drink stands. In the evening, you can catch a beautiful look at the Chicago skyline in the distance. And maybe even see some fireworks over Lake Michigan all while sipping on a margarita.
Wrigley Park – Despite being situated a couple miles outside of the main part of Downtown Chicago, I still believe Wrigley is a must do. This place is iconic! It is the 2nd oldest baseball park in the United States, built in 1914. And for baseball fans this place holds all kinds of meaning.
Art Institute of Chicago – One of the most famous impressionist, modern art museums in the United States. For even a faint love of Art, a visit to the Art Institute is a MUST DO. Enjoy masterpieces of Monet, Picasso and Dali. Plus it is located right in Grant Park!
John G Shedd Aquarium or the Lincoln Park Zoo – In my estimation, I would do one of the other. The aquarium is probably a better overall experience since it is the largest indoor aquarium, and located in a more centralized location. But the Lincoln Park Zoo is in a really beautiful neighborhood outside the hubbub of downtown Chicago, and can be a beautiful neighborhood to walk around and enjoy a different side of Chicago. Plus, the the Zoo is one of the nicest, largest free zoos to visit in the country.
Magnificent Mile and Michigan Avenue – Probably everyone does this already since it is where all the action of Downtown Chicago is. But it is worth mentioning. Many of the best eats, hotels, and sights are off Michigan Avenue.
If time permit, enjoy the music scene in Chicago. From the fun blues clubs to the Chicago Theater.
Top Things in Chicago to Eat
Deep Dish Pizza – Everyone knows a trip to Chicago must include a deep dish pizza place. In my opinion, you can't go wrong with Lou Malnati's or the Original Gino's East.
Italian Beef – The two most popular tend to be Johnnie's Beef in Elmwood Park, or the original Al's # 1 Italian Beef. If you want to taste a bit of Chicago flare, get some good italian beef.
Chicago Hot Dog – If staying in downtown, Portillo's is probably your best bet. But if you can venture a little bit outside the downtown area, go to either Jimmie's Red Hots or Hot Doug's.
Chicago Steakhouse – The most famous is probably Gibson's Steakhouse, and to be honest it deserves all the credit it gets. Don't be surprised if you see a celebrity sitting right next to you. If you want to save a little bit of money, opt for lunch over dinner.
Dessert – Go to Mindy's Hot Chocolate, you will not regret it! It is located a little outside the downtown part of the city, but it is in a real happening, trendy part of town now. It features all types of homemade ice creams, donuts and treats. This place is flat out amazing! Little pricey, but worth it.
For a little bit off the beaten path, try some of Chicago's excellent ethnic foods. From their awesome Greek neighborhood  with tons of authentic Greek restaurants to the great Chinese, Japenese and Thai restaurants scattered throughout the city. 
Hopefully I gave you some ideas of places to see, visit or eat next time your in Chicago. Obviously everyone has different opinions, and my first couple trips of Chicago focused mostly on the touristy things. I know I am probably missing a few amazing things to do or eat in Chicago.
What are your absolute favorites to do, see or eat in Chicago? Post in the replies below!