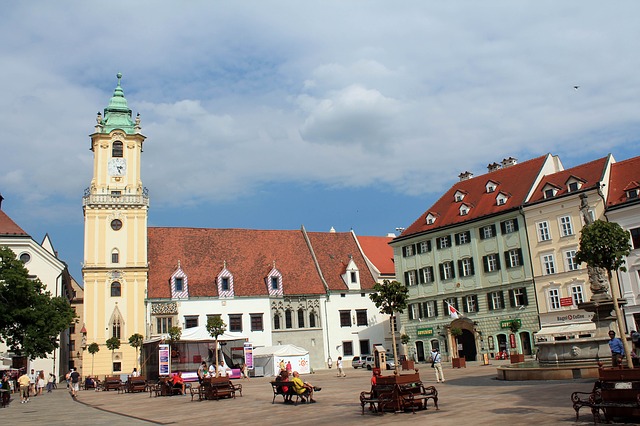 Before planning our upcoming anniversary trip, I did not know much about Bratislava. I still don't claim to be an expert YET, but I know a good deal more then I did several months ago! I can now say I am somewhat experienced in Bratislava Tourism 🙂
Bratislava is the capital city of Slovakia. It is located on the western city of the country, not too far from the Hungarian and Austrian borders.
This part of our upcoming trip is a little different then the 1st two cities we are visiting. Why, you ask? Because we are staying with friends that have an apartment right in the main part of the city. So we do not need to book or research hotels or places to stay!
So in doing research for our trip to Bratislava we focused on the sights, sounds, and tastes of Bratislava, Slovakia. Our upcoming trip to Bratislava will be about 5 days with a side trip to Vienna in between somewhere. 
The good thing is we will be with locals who have lived their for a few years, and they know the ins and outs of the city like the back of their hand. So they will help show up the best most authentic places to eat, see, and experience! And I will be sure to post them in my upcoming trip review so you can experience the best of Bratislava. 
Just to give you an idea, our mix of things might be different then yours. I am more of a history, museum, architectural person then my wife. After about 20 minutes of the Lourve or the British Museum my wife is ready to leave…. So we try to balance things out between our two interests.
The common thing we both enjoy is FOOD. So we try to make sure we never skimp there. But we also want to see the MAIN sights. We don't need to see all of the Top 5 museums, churches, or historical artifacts in every place we go. But if there are a few that are MUST DOs, then we do our best to hit them. 
So just keep that in mind…….But here is a sample itinerary of things that interest us, and we plan on doing on our upcoming trip to Bratislava.
Touristy Things to See (If time allows)
Slovak National Theatre – I've heard nothing but GOOD things about this opera from friends and family who have seen ballets and operas. I am intrigued for the simple fact that the shows are world class, but the prices are a fraction of the cost of the Vienna Opera House. And the building is beautiful! 
Bratislava Castle – This is probably the number 1 most popular sight in Bratislava, and it should be on any first-timers priority list. It is the symbol of the city, and it overlooks the the Danube River. 
Walking around Bratislava's Old Town – Enjoy the traffic free squares of the old town. This is probably the best place to take in the atmosphere, architecture and charm of the city.
Take in the Slovak Beer – This is pretty self explanatory, but like I said for Budapest and Prague, Eastern Europeans take great pride in their beer. I am looking forward to comparing the tastes of the different ones.
Devin Castle – Although a few miles outside the city, this castle is known for its dramatically beautiful landscape and surroundings. It is on top of a hill overlooking the point where the Danube and the Morava meet.
While there are other things that would be GREAT if we had the time, these are the things that interest our personalities the most.
But other things that might be worth checking out are things such as:
St. Martin's Cathedral
Slavin Hill
The New Bridge and the UFO Observation Deck
Primates Palace
If we get a chance to check out any of these things, we will make sure to tell you about them! Do you have any MUST DOs for us during our upcoming trip to Bratislava? Please let us know in the comments section below!!
Also if you want to check out our first two parts of our upcoming anniversary trip click on the below links:
Part 1 of Our 3rd Anniversary Trip – In Prague
Part 2 of Our 3rd Anniversary Trip – In Budapest
In our next article we will focus on things that we would LOVE to see in Vienna on our short side trip there for 1 day.